Looking for School Fete Ride Hire?  Hire a Jumping Castle!
Are you looking for the perfect rides for your school fete or festival? You are probably feeling overwhelmed with the task – particularly if this is your first fete and you don't know where to start! Where is that fete guide your predecessor left? Grab it! Read it, savour it but make your mark – could you do better?!
Our friends at the Fetes & Festivals have a fete checklist which is really helpful – particularly for newbies.
Things you should consider for the big day when choosing your rides are;
1. The space and how many people you think will come to your event. If you are using the school oval, try and get dimensions and talk to your stall holder convenor to see how much space they will need if you have to share the space.
2. What ages you will be catering for – a primary school fete for example tends to attract younger children / toddlers
3. Do you use arm bands or charge per ride? Success varies but the arm band is growing in popularity and discounting the arm band up until the day before the fete can help with cash flow and also to get some guaranteed sales before the big day. Another bonus is less queuing on the event day with people trying to buy arm bands. Payment on the day can be tricky – make sure you can get an eftpos machine if possible. $35 per child on the day can be lost if the adult doesn't have the cash!
4. Typically the younger children can miss out as there may be only one ride suitable for their age. Try and offer an alternative to the older kids rides by keeping them separate and offering a cheaper (and different colour arm band of course) for the toddler section. A toddler section can include a carousel ride, a couple of jumping castles, a soft play area and even some stalls eg a cupcake decorating stall, crazy hair stall etc. Pricing can vary but we see it often around the $15 mark for the younger area and $30 for the older kids rides.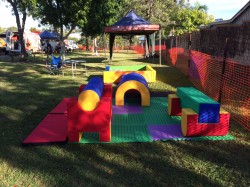 5.  Think about the weather! It is often handy to keep the toddler rides section well out of the way of the older kids. If you can get a shaded area, this always helps especially in warmer weather in full sun.
Any other tips? Let us know!
Happy Jumping!
Marc & Josephine