All for fun jumping castles with Marjo Jumping!
Marjo Jumping is your one stop shop for an All For Fun jumping castles hire.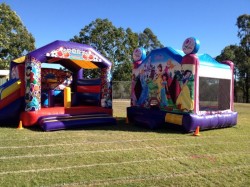 Kid's birthdays are always a huge success when a Marjo Jumping jumping castle is involved. They are a safe, super fun and exciting way for the kid's to celebrate a birthday, and best of all, you can hire a themed jumping castle to match the party theme. Pixar Cars, Toy Story and Princesses.   This is an All for Fun, all inclusive party solution.
With our generators you can take the party wherever you want. We have generators to suit both sizes of our fantastic jumping castles. All for fun is what makes Marjo Jumping the number one jumping castle hire business in Gippsland. Our service is friendly, our jumping castles are safe, and we are very affordable.
Contact us now to book.