Kids Party Ideas
Let Marjo Jumping help you with your next kids party – we have  game ideas that can help make your party a real hit with the young ones.  With kids parties, you need game ideas, food ideas, and how to keep them busy and enjoying themselves.
At  Marjo Jumping  we can supply  party solutions to fit any needs, budget, location or requirement. Together with Marjo's Pirate Pete and Jo Jo the Clown the Kids will have a lot of fun and laughter with new & simple games that they had not played before.
Pirate Pete claims to be related to the notorious Captain Blood and Captain Hook!!  He likes dueling cannons and the children can find gold nuggets in his treasure sands. His pirate sailing ship is named 'The Skull & Cross Bones that has two firing cannons" (pops out plastic cannon balls). Pirate Pete also sings a few tunes including his very own pirate song. Jo Jo the Clown gets up to some mischief with crazy hair and face painting.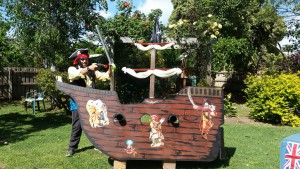 Marjo Jumping also has a kids karaoke including screen and discs for the kids try out their singing voice. You could have 'The Voice' as your kids party idea theme .. where the kids sing their favorite songs!
With our great selection of themed jumping castles, at a very competitive price and friendly service, kids parties are our forte! For game ideas, you could hire our  Sports Interactive jumping castle.
And with our generators you can hire our jumping castle's and we can deliver anywhere  at your local park, golf club, or even swimming pool! Parks are fantastic, because they have a lot of space, and you set everything up around the jumping castles with trestle tables, balloons and if there is a playground nearby, the kids will have so much fun to choose from.  Best of all, you can throw all the mess away before going home!
So for your next kids party, contact us for great kids party ideas, we will have you organised in no time!