Disney Frozen Jumping Castle has joined the Marjo Jumping Castle family! 
The time has come to jump on the Frozen Movie party theme! The kids will  jump for joy on our new Disney Frozen jumping castle, the hottest Disney movie to join our exciting line of themed jumping castles.  This will make kids party entertainment so much easier, with a larger selection of fantastic jumping castle themes to choose from.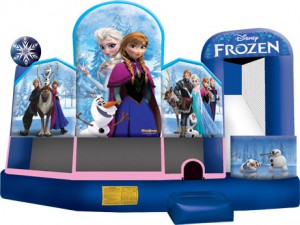 Have all the girls singing with Elsa's 'Let It Go' while they jump inside this fabulous Disney Frozen jumping castle that is safe, easy to use and keeps them entertained for hours.   The Disney Elsa Frozen jumping castle is perfect for little dressed up Elsa's, Anna's and Olaf's to imagine they too …..are inside the frozen Arandelle Kingdom!
The Frozen jumping castle will transport the children to the world of ice and magic.  Put the music on and let them jump on our fantastic new Disney Frozen jumping castle.
The Frozen jumping castle for hire will bring to life a Frozen themed party, and add that extra bit of sparkle to a fantastic and entertaining day. So, along with the blue jelly 'ice' squares, snowflake tiaras, and other 'frozen' party ideas you have, be sure to include the new Disney Frozen jumping castle from Marjo Jumping Castles!
Not only do our Marjo jumping castles provide hours of entertainment, the kids are getting healthy exercise as well as having the time of their life! Bring beauty and charm to your next child's party, and entertainment plus by hiring our Disney Frozen jumping castle.