Toy Story 3 Jumping Castle Hire Christmas Special!
The silly season is nearly upon us kids!! Marjo Jumping Castles has some fabulous jumping castle hire ideas to make those Christmas get together's easy, with no fuss. Let us do all the work for you! With Christmas, toys and children all very connected over the next 6 weeks, Marjo has the huge Toy Story 3 Combo on special!
This Christmas, with the toy theme in mind for the kids, we are hiring our Toy Story 3 Combo jumping castle for a special price of $300! That is a discount of $20!
From the 1st December all month till the 31st December we are offering this fantastic discount!! So contact us to book – but don't wait too long as with this reduced rate, the Toy Story 3 jumping castle cannot be everywhere at once!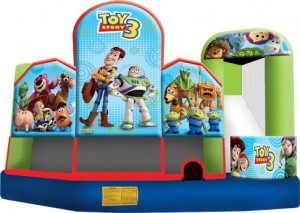 What is better than hiring a jumping castle to have in the park or in your back yard, the kids have so much fun, and it's all so easy with Marjo Jumping fantastic and friendly service.  We do all the hard work for you – just sit back and let the kids exhaust themselves!